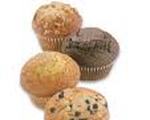 Prep: 12 hr 20 min
Cook Time: 20 min
Total: 12 hr 40 min
Serving: 6
The dough for Ice Box Bran Muffins can be prepared a day ahead and baked fresh in the morning.
Ingredients
1 cup Bran Buds
1 cup boiling water
1/2 cup butter, softened
1 1/4 cups sugar
2 eggs, beaten
2 cups buttermilk, at room temperature
2 1/2 cups flour
2 1/2 teaspoons soda
1/2 teaspoon salt
2 cups additional Bran Buds
Directions
Pour boiling water over 1 cup Bran Buds; mix butter, sugar and eggs; cream and add to above. Add buttermilk, flour, soda, salt and 2 cups of Bran Buds. Mix lightly.
Place in covered bowl in refrigerator overnight or for at least 3 hours. Bake a few at a time as desired at 400 degrees F for 15 to 20 minutes in a greased muffin tin. Dough keeps up to 3 weeks refrigerated.