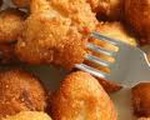 Prep: 15 min
Cook Time: 10 min
Total: 25 min
Serving: 8-10 servings
Old fashioned hush puppies recipe.
Ingredients
2 cups yellow cornmeal
1/2 cup flour
2 tablespoons sugar
1 1/2 teaspoons salt
4 1/2 cups water
4 tablespoons butter
1/3 cup parsley (minced)
1/3 cup green onions (minced)
1/4 cup chopped onion
1 tablespoon hot green peppers (minced)
Directions
Prepare a deep fryer with hot fat.
Combine all the dry ingredients. Mix together the water and butter and bring to a boil in a saucepan. Stir in the parsley, onions and peppers. Bring to a brisk boil until the onions become clear, about 5 minutes.
Stir in the dry ingredients, stir constantly to prevent it from becoming lumpy. Cook on low for 3-5 minutes until thick. Pour into a shallow pan or cookie sheet and allow to cool. Roll into thin 3-4 inch lengths.
Deep fry until lightly browned.