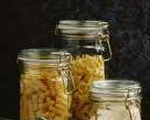 Prep: 15 min
Cook Time: 50 min
Total: 1 hr 5 min
Serving: 6
With two cheeses and ground beef, Hungry Man's Casserole is hearty and satisfying.
Ingredients
1 1/2 pounds ground beef
2 teaspoons salt
2 teaspoons sugar
1, 16 ounce can tomatoes
1, 8 ounce can tomato sauce
2 cloves garlic, crushed
pepper to taste
1, 8 ounce package thin noodles, cooked
1 cup sour cream
3 ounces cream cheese, softened
3 green onions with tops, chopped
grated Parmesan cheese
Directions
Brown ground beef in skillet, stirring until crumbly. Pour off drippings. Add next ingredients, mixing well. Cook for 10 minutes.
Combine remaining ingredients except grated Parmesan in bowl, mixing well. Layer noodle mixture and ground beef mixture alternately in greased casserole until all ingredients are used. Top with cheese.
Bake at 350 degrees F for 30 to 35 minutes.