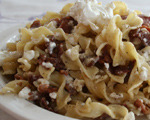 Prep: 10 min
Cook Time: 12 min
Total: 22 min
Serving: 6 Servings
Turos Teszta is a Hungarian-style dish made with noodles, cheese and bacon. Enjoy this satisfying comfort food as a weeknight dinner.
Ingredients
2 pounds sliced bacon
1 (16-ounce) bag medium egg noodles
1 (22-ounce) container small curd cottage cheese, room temperature
Freshly ground black pepper
Sour cream, room temperature, to garnish
Directions
Cook the noodles 'al dente' according to package directions and then drain well.
In the meantime, cut the bacon into 1/2-inch wide pieces and then place in a large sauté pan over medium heat. Cook the bacon until very crispy, about 8 minutes, and then remove from the pan and place on some paper towels to drain.
Transfer the cooked noodles to the sauté pan with the bacon fat, and toss to coat. Add the cooked bacon, cottage cheese and pepper to the pan, and toss once again to combine. Serve topped with dollops of sour cream.