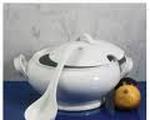 Prep: 30 min
Cook Time: 3 hr
Total: 3 hr 30 min
Serving: 7
Hungarian Pork and Beans has a dollop of sour cream and spicy paprika.
Ingredients
1, 16 ounce package Great Northern beans, rinsed and sorted
water
vegetable oil
1/2 pound pork pieces, cut into 3/4 inch chunks
2 medium turnips, cut into 1 inch pieces
2 medium carrots, cut into 1 inch pieces
1 onion, diced
1 green pepper, diced
2 tablespoons paprika
1 3/4 teaspoons salt
1 teaspoon sugar
1 medium tomato, diced
1 chicken flavor bouillon cube
sour cream
Directions
In 5 quart saucepot over high heat, heat beans and 8 cups water to boiling; cook 3 minutes. Remove saucepot from heat and let stand covered for 1 hour. Drain and rinse beans; place in medium bowl; set aside.
In same saucepot over medium-high heat, in 1 tablespoon hot oil, cook pork pieces until browned on all sides. Remove pork to plate. In drippings remaining in saucepot over medium heat, add 1 tablespoon oil, cook carrots, turnips, onion and green pepper until lightly browned, stirring occasionally. Stir in paprika; cook 1 minute.
Return beans and pork to saucepot; stir in salt, sugar, tomato, bouillon and 4 cups water; over high heat, heat to boiling. Reduce heat to low; cover and simmer 1 1/2 hours or until beans and pork are tender and most of the liquid is absorbed.
Pass sour cream to be spread over servings.