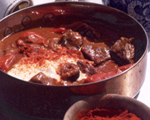 Prep: 1 hr 35 min
Cook Time: –
Total: 1 hr 35 min
Serving: Serves 4-6
A goulash is usually a soup or stew made with beef, vegetables and spices. Try this hearty and flavorful recipe made with bacon.
Ingredients
5 slices bacon, chopped
3 pounds boneless chuck, trimmed and cut into 1/2-inch cubes
2 tablespoons olive oil
4 medium onions, finely chopped
3 garlic cloves, minced
3 tablespoons paprika
1-1/2 teaspoons caraway seeds
1/3 cup all-purpose flour
1/4 cup red-wine vinegar
1/4 cup ketchup
5 cups beef broth
1 beer
1 teaspoon salt
2 red bell peppers, chopped fine
Directions
Cook the bacon until crisp over medium heat in a Dutch oven. Remove, crumble and set aside.
Increase the heat to high, and add the meat, browning in the bacon fat on all sides.
Add in the onions and garlic, and reduce the heat to medium-low. Sauté for about 5 minutes until soft and fragrant.
Sprinkle in the paprika, caraway seeds, and flour and cook for 3 minutes, stirring frequently. Pour in the vinegar and the ketchup and cook for another minute.
Slowly pour in the broth and water while whisking, and then add the salt, bell peppers, bacon, and meat. Bring to a boil and then reduce heat to low. Simmer for 1 hour and 15 minutes. Check seasoning and add accordingly. Ladle into bowls and serve hot.