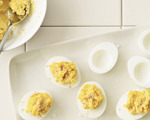 Prep: 30 min
Cook Time: 5 min
Total: 35 min
Serving: 8 servings
Ideally, homemade hummus with tahini would be the preferred ingredient for this deviled egg recipe, however, if you are short on time then use some high-quality, prepared hummus instead.
Ingredients
8 large eggs
1/2 cup prepared or homemade Hummus
1/4 cup mayonnaise
1 teaspoon fresh lemon juice
Salt and cayenne pepper
Toasted sesame seeds, for garnish
Directions
Place the eggs in a large saucepan and cover with water by at least 2-inches. Bring to a boil and then reduce heat to low; cover the pan for 30 seconds. Take the pan off the heat and let sit, covered, for 15 minutes.
Take the eggs out of the hot water and transfer to a bowl of cold water. Leave for 5 minutes and then peel eggs.
Cut the eggs in half with a sharp knife, carefully remove the yolks and place into a bowl.
Add the hummus, mayonnaise, lemon juice and a few pinches of salt and cayenne pepper to taste. Vigorously stir the mixture until smooth and then carefully spoon into the egg white halves. Serve the deviled eggs immediately garnished with a sprinkle of sesame seeds.