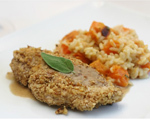 Prep: 15 min
Cook Time: 14 min
Total: 29 min
Serving: 4 Servings
This recipe uses hummus to coat the chicken, prior to dredging the breasts in breadcrumbs, giving it a thicker and more delicious coating.
Ingredients
1 16-ounce can navy beans, rinsed and drained
6 tablespoons olive oil, divided
3 tablespoons lemon juice
4 skinless, boneless chicken breast halves
Salt and ground black pepper
2 cups coarse soft bread crumbs
Directions
Place the beans into a food processor along with the lemon juice and 3 tablespoons of olive oil. Process the mixture until smooth and creamy.
Season the chicken breasts on both sides with salt and pepper, and then thickly coat with the hummus.
Dredge the chicken in the breadcrumbs, pushing to adhere.
Place the remaining oil into a large sauté pan over medium heat. Once the oil begins to shimmer, add the chicken and cook for 14 minutes, turning once, until no longer pink. Serve immediately.