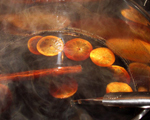 Prep: 10 min
Cook Time: 1 hr
Total: 1 hr 10 min
Serving: Serves 4-6
A classic winter beverage, this cocktail can be made with the malt beer and sprit of your choice.
Ingredients
3 apples (peeled, cored, sliced, and sprinkled with 1/2 cup brown sugar)
1 quart brown ale
8 ounces dry sherry
Zest from 1/2 lemon, finely grated
1/2 teaspoon ground nutmeg
1/2 teaspoon cinnamon
1/2 teaspoon ginger
Directions
Preheat the oven to 350 degrees.
Place all but a handful of apples in an oven dish and drizzle with a bit of the brown ale. Bake for 45 minutes.
Place the apple mixture into a food processor, and process until smooth.
Transfer the mixture to a saucepan and place over medium-low heat. Add the remaining ale, sherry, lemon zest and spices to the mixture and simmer gently.
Pour the mixture into a bowl along with the remaining apple slices and serve.