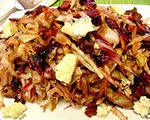 Prep: 10 min
Cook Time: 10 min
Total: 20 min
Serving: 4-6 Servings
Coleslaw can be made with traditional red or green cabbage, or alternatively Chinese, celery, Napa, Savoy cabbages or even bok choy, as a delicious alternative.
Ingredients
6 slices thick cut bacon
3 tablespoon cider vinegar
2 tablespoons water
1 tablespoon brown sugar
1 teaspoon caraway
Salt to taste
3 cups shredded red or green cabbage
1 large cooking apple, peeled, cored and grated
Blue cheese to garnish
Directions
Cook the bacon in large skillet over low heat until crisp. Drain the bacon on paper towels, cool and crumble.
Add the vinegar, water, brown sugar, caraway and salt to the skillet and stir to combine.
Bring the mixture to a boil over high heat and then add the cabbage and the apple.
Reduce the heat and simmer the mixture for 2 minutes before serving hot, topped with the crumbled bacon and some blue cheese.