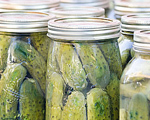 Prep: 15 min
Cook Time: –
Total: 15 min
Serving: Makes 6 pints
These homemade pickles have just the right spicy and garlicky blend of flavor. Top on your favorite sandwich for a zesty kick.
Ingredients
3 pounds small pickling cucumbers, well rinsed
4 cups water
4 cups cider vinegar
1/2 cup sugar
1/3 cup pickling salt
6 hot Thai red chile peppers
12 cloves of garlic, cut in halfv
6 tablespoons dillseeds
Directions
Slice the pickles into 1/4 to 1/2-inch slices and then loosely pack into hot sterilized glass canning jars leaving 1/2-inch of space from the top of the jar. Add 1 Thai pepper and 2 cloves of garlic to each jar and then sprinkle in 1 teaspoon of dillseed.
Place the water, vinegar, sugar and pickling salt into a large pot and bring the mixture to a rolling boil.
Once boiling, pour the mixture into the jars with the pickles, leaving 1/2-inch of space from the top, and then place in a boiling-water canner for 10 minutes.
Remove the jars from the canner and place in a cool, dry area for 1 week.