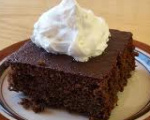 Prep: 15 min
Cook Time: 25 min
Total: 40 min
Serving: 9 servings
A wonderful holiday treat
Ingredients
1/2 cup shortening
1/2 cup strong hot coffee
2 eggs
1/2 cup sugar
1/2 cup molasses
1 1/2 cups flour
2 teaspoons baking powder
1 teaspoon ginger
1 cup powdered sugar
4 tablespoons cream
1/2 teaspoon vanilla
Directions
Preheat oven to 350 degrees Fahrenheit. Grease an 8 inch pan.
Melt the shortening in the coffee.
Beat the eggs, mix in the sugar and molasses. Carefully add in the shortening mixture.
Stir together the flour, baking powder and ginger. Add to the sugar mixture, mix well.
Pour into the pan. Bake for 25 minutes.
While it is baking blend together the powdered sugar, cream and vanilla. Spread on the gingerbread while hot. Allow to cook before cutting into squares.