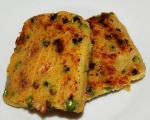 Prep: 10 min
Cook Time: 35 min
Total: 45 min
Serving: 12 squares
A puffy, egg cheese and green chilie appetizer.
Ingredients
1 (4 ounce) can diced green chilies
1 (3 ounce) jar bacon bits
1 (16 ounce) package shredded cheddar cheese
7 eggs
Hot sauce
Directions
Preheat the oven to 350 degrees Fahrenheit.
In a 7x11-inch greased pan, layer the green chilies, bacon bits and cheese.
In a small bowl, use a fork to beat the eggs with a little salt and the hot sauce. Pour over the cheese.
Cover and bake in the preheated oven for 25 minutes. Remove the cover and bake an additional 10 minutes. Slice into squares to serve.