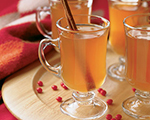 Prep: 5 min
Cook Time: 15 min
Total: 20 min
Serving: 4 Servings
A delicious holiday beverage, make sure you simmer the cider and do not boil it.
Ingredients
4 cups (1 quart) apple cider
1 cup orange juice
2 tablespoons honey
12 whole allspice berries
4 cinnamon sticks, each 3 inches long
1 whole nutmeg
1/2 teaspoon grated orange rind
1 small red apple, cored and cut into wedges
Directions
Place the cider, orange juice, honey, allspice berries, cinnamon sticks, whole nutmeg, and orange rind in a large sauce pan, and simmer over medium heat for 10 minutes.
Drop in the apple wedges and simmer for an additional 3 minutes.
Strain the mixture and transfer to a large pitcher. Stir and serve.