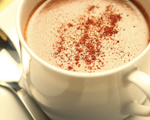 Prep: 10 min
Cook Time: 2 min
Total: 12 min
Serving: Serves 2
The Aztecs were the first to introduce hot chocolate, which they served mixed with chili pepper. Experiment with the chili pepper in your own version until you find the level of spiciness you like.
Ingredients
1-2/3 cups milk
1/2 vanilla bean, split lengthwise
1 red chili pepper, split with seeds removed
1 cinnamon stick, around 3-4"
1-1/2 ounces bittersweet chocolate
Directions
In a small saucepan, simmer the milk, vanilla bean, cinnamon and chili for about 1-1/2 minutes.
Mix in the grated chocolate and whisk the mixture until the chocolate is totally melted.
Remove the hot chocolate from the heat and let stand for 10 minutes to blend the flavors.
Strain with a sieve into 2 mugs and serve immediately.