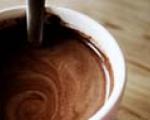 Prep: 10 min
Cook Time: 20 min
Total: 30 min
Serving: 7
A creamy chocolate drink to warm you up on a cold day.
Ingredients
2/3 cup plus 1 tablespoon cocoa
1/4 cup sugar
1 teaspoon ground cinnamon
6 cups milk, divided
2 eggs, beaten
2 teaspoons vanilla extract
Directions
Combine cocoa, sugar and cinnamon in saucepan.
Gradually add 1/2 cup milk.
Stir until mixture is smooth.
Stir in remaining milk.
Cook over medium heat, stirring constantly until mixture is thoroughly heated.
Gradually stir a small amount of hot mixture into eggs.
Add eggs to saucepan.
Cook over low heat 2 to 3 minutes, stirring constantly.
Remove from heat.
Add vanilla and beat on medium speed of an electric mixer until frothy.