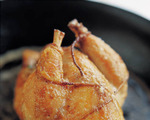 Prep: 15 min
Cook Time: 30 min
Total: 45 min
Serving: 6
Hot Chicken Sandwiches are great for lunch. Ham can be substituted.
Ingredients
1 1/4 cup American cheese, cubed
3 cups hard boiled eggs, chopped
1 cup cooked chicken, chopped
1 tablespoon green pepper, minced
1 tablespoon onion, minced
3 tablespoons stuffed olives, chopped
2 tablespoons pickle relish
1/2 cup salad dressing
6 Kaiser rolls, split
Directions
Mix all ingredients together and spread on buns. Wrap buns in foil and store in refrigerator until ready to serve.
Place wrapped buns on a baking sheet and bake at 350 degrees F for 20 to 30 minutes.