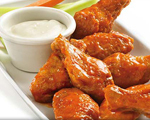 Prep: 10 min
Cook Time: 44 min
Total: 54 min
Serving: 4-5 servings
Enjoy these classic hot and spicy wings served with cool, homemade blue cheese dressing and a side of celery sticks.
Ingredients
20-25 chicken wings, cut at the joints, wingtips discarded
1 part Butter
2 parts Frank's Louisiana Red Hot Sauce
1 part white vinegar
1 cup Mayonnaise
2 tablespoons onion, finely chopped
1 teaspoon garlic, finely minced
1/4 cup parsley, finely chopped
1/2 cup sour cream
1 tablespoon lemon juice
1 tablespoon white Balsamic vinegar
1/4 cup blue cheese, crumbled
Salt and freshly ground black pepper to taste
Celery sticks to garnish
Directions
Preheat the oven to 425 degrees and line the bottom of a baking sheet with parchment paper.
In a small saucepan, heat the butter, Hot Sauce and vinegar over medium heat until simmering.
Place the wings in a large bowl and toss with the hot sauce until well coated.
Place the wings on the prepared baking sheet, and bake for 20 minutes on each side.
Meanwhile, using a food processor, mix the remaining ingredients together until smooth and creamy. Add salt and freshly ground pepper as needed.
Empty into a bowl and serve with the hot Buffalo wings along with a side of celery sticks.