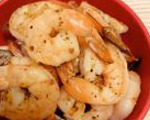 Prep: 4 hr 10 min
Cook Time: 12 min
Total: 4 hr 22 min
Serving: Makes 12 Servings
These succulent pieces of shrimp are robustly spiced with garlic, red pepper, lime juice, black pepper and soy sauce. Serve hot from the oven with toothpicks.
Ingredients
1-1/2 pounds peeled and deveined shrimp
1/4 cup chopped green onion (3 medium)
1/4 cup fresh lime juice
1 tablespoon soy sauce
2 teaspoons grated lime peel
1/4 teaspoon freshly ground pepper
1/8 teaspoon crushed red pepper
2 cloves garlic, finely chopped
3-1/2 teaspoons sesame oil
olive oil cooking spray
Directions
Place all of the ingredients, except for the sesame oil and shrimp, into a bowl and whisk vigorously until thoroughly blended. Add the shrimp to the mixture, toss well to coat and then cover and place in the refrigerator for 4 hours to marinate.
Preheat your oven to 400 degrees and grease a 13x9x2-inch pan with olive oil cooking spray.
Put the shrimp in a single layer onto the prepared pan and then bake in the oven for 12 minutes.
Remove the shrimp from the oven and arrange on a serving platter; drizzle with the sesame oil and serve hot.