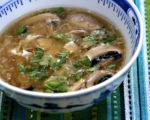 Prep: 20 min
Cook Time: 30 min
Total: 50 min
Serving: Serves 8-10 people
Looking for a delicious soup to warm you up on a winter's night? Hot & Sour Soup with Tofu is full of flavor and perfect for vegetarians. Serve alongside noodles or simply eat on its own.
Ingredients
8 cups low-sodium vegetable broth
2 tablespoons light brown sugar
2 tablespoons fresh ginger, minced
2 tablespoons low-sodium soy sauce
1 tablespoon garlic, minced
2 tablespoons chili oil or hot sauce
4 cups shredded napa cabbage
2 cups shiitake mushrooms, sliced
1 cup extra-firm tofu, diced
1/2 cup red bell pepper, minced
1, 8-oz can bamboo shoots, drained and diced
1/4 cup of rice vinegar
3 tablespoons of dry sherry or rice wine
2 tablespoons fresh lime juice
1 tablespoon cornstarch
1 teaspoon of fresh ground black pepper
1/2 cup scallions, sliced
2 serrano chiles, thinly sliced
Directions
In a large pot, combine the vegetable broth, brown sugar, ginger, soy sauce, garlic and hot sauce. Bring to a boil then reduce to a simmer.
To the liquid, add the cabbage, mushrooms, tofu, bell pepper and bamboo shoots. Simmer for 5-7 minutes.
In a small bowl, whisk together the vinegar, sherry or rice wine, lime juice, black pepper and cornstarch. Return the soup to a boil and stir in the vinegar mixture to help thicken the soup. Allow the soup to boil until it's just thick (about 2 minutes).