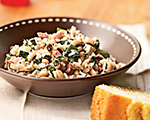 Prep: 4 hr 20 min
Cook Time: 1 hr
Total: 5 hr 20 min
Serving: 6-8 Servings
Hoppin' John is a rice pilaf made with black-eyed peas. Traditionally it is served in the South on New Year's Day.
Ingredients
8 ounces dried black-eyed peas (about 1-1/4 cups)
1-1/2 cups chopped onions
1 tablespoon minced garlic
4 ounces smoked ham, diced
1/2 teaspoon dried thyme
1/2 teaspoon crushed red pepper flakes
2 large bay leaves
3 cups water
Salt and pepper to taste
1-1/4 cups chicken broth
2 tablespoons butter
4 slices bacon, diced
1-1/4 cups long-grain wild rice
1 teaspoon salt
1/4 cup minced parsley
Directions
Soak the peas for 4 hours.
Rinse the peas, drain and then place in a large soup pot along with the onions, garlic, ham, thyme, red pepper flakes, bay leaves and water.
Simmer the mixture for 35 minutes, or until peas are tender, and then drain the mixture, reserving the liquid, and place in a bowl.
Season the pea mixture with salt and pepper and then cover and set aside.
Place the reserved liquid and the chicken broth back in the soup pan and preheat the oven to 325 degrees.
Add the butter and the bacon to the pot and place over medium heat. Cook until bacon begins to crisp, and then stir in the rice and the 1 teaspoon of salt and cook for an additional minute.
Transfer the pea mixture back to the pot and bring to a simmer. Cover the pot, and place in the oven to bake for 20 minutes.
Add the parsley, toss the pilaf with a fork, and let stand for 10 minutes before serving.