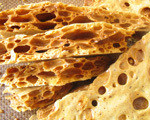 Prep: 45 min
Cook Time: 6 min
Total: 51 min
Serving: Makes 4-6 servings
Honeycomb candy is a treat that kids love because of its sweet taste and interesting texture made from bubbles getting trapped within the candy.
Ingredients
3/4 cup sugar
2 tablespoons honey
2 tablespoons water
1-1/2 teaspoons baking soda
Directions
Butter or oil a cookie sheet.
Place the sugar, honey and water into a medium-sized saucepan and place over high heat.
Cook the mixture until it reaches 300 degrees, and then remove from the heat and whisk in the baking soda.
Stir the mixture just until combined and then transfer (do not spread) to the prepared baking sheet to cool.
Once cool, break the candy into pieces and place in an airtight container to store.