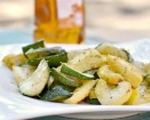 Prep: 10 min
Cook Time: 30 min
Total: 40 min
Serving: 2 People
Summer squash is one of those incredible ingredients that is often overlooked in many dishes due to the misconception that it's hard to prepare it with a lot of flavor. This simple and quick recipe shatters those ideas by giving you an incredibly sweet yet savory salad made from fresh summer squash and zucchini! Prepare this for any occasion for an insant crowd pleaser.
Ingredients
1 medium yellow summer squash
1 medium zucchini
3 tablespoons honey
1 teaspoon salt
1/2 teaspoon pepper
1 tablespoon olive oil
Directions
Preheat oven to 425 degrees F. Line a baking sheet with foil and spray with nonstick cooking spray.
Cut squash and zucchini into 1/2-inch chunks. Place seed side up on the baking sheet. Sprinkle with salt, pepper and olive oil. Pour honey over squash.
Bake for 15 minutes then flip zucchini and squash over. Bake an addition five to ten minutes, or until squash is golden brown. Serve warm.