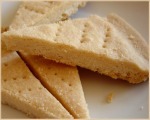 Prep: 40 min
Cook Time: 45 min
Total: 1 hr 25 min
Serving: Serves 8 people
What could be yummier than shortbread with a taste of honey and fresh oranges? Honey Orange Shortbread is great for a special dessert treat.
Ingredients
2 sticks of unsalted butter, cold and cut into small pieces
1/2 cup of confectioners' sugar
1 tablespoon of grated orange zest
1 teaspoon vanilla extract
2 cups of flour, and some reserved to flour the work surface
1/2 teaspoon of kosher salt
4 oranges peeled and sliced into circles (you can substitute 8 clementines)
2 pints of your favorite vanilla ice cream
1/3 cup of honey, warmed
Directions
In a food processor or large bowl using your hands, mix the butter, sugar, orange zest, vanilla, flour and salt until crumbly.
Knead the dough in the bowl until it all comes together.
Put the dough on a large sheet of parchment paper, lightly floured, and roll the dough until it's about 1/4-inch thick.
Trim the edges of the dough to make the shape of a large circle.
Cover the dough and put it in the refrigerator for about 30 minutes. Heat your oven to 300 degrees.
After being refrigerated, cut the dough into 16 wedges. Transfer the parchment paper and dough to a baking sheet, and bake the shortbread until it's lightly golden, or for about 45 minutes, and let it cool.
To serve the shortbread, place the shortbread first, then the orange slices, and ice cream. Drizzle the warm honey over the top.