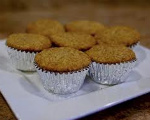 Prep: 10 min
Cook Time: 20 min
Total: 30 min
Serving: 2 dozen
Great, healthy breakfast muffin
Ingredients
2/3 cup milk
1/3 cup vegetable oil
1 egg, beaten
1/4 cup honey
1 1/2 cups oatmeal
1 cup sifted flour
1/3 cup brown sugar
1 tablespoon baking powder
1/4 teaspoon salt
1/2 cup chopped nuts
Directions
Preheat oven to 375 degree Fahrenheit. Grease or line muffin pan.
Mix together the milk, vegetable oil, egg and honey. Set aside.
Stir together the oatmeal, flour, brown sugar, baking powder and salt. Blend everything together. Add in the nuts.
Fill prepared muffin cups 2/3 full and bake for 20 minutes.