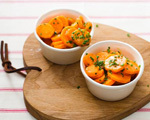 Prep: 10 min
Cook Time: 10 min
Total: 20 min
Serving: 4 Servings
A great vegetarian side dish to pair with roasted chicken or pork, use thinner and smaller carrots which are sweeter and tenderer.
Ingredients
1 pound carrots, peeled
1-1/2 tablespoons Dijon mustard
2 teaspoons olive oil
1 teaspoon mild honey
1 pinch cinnamon
2 tablespoons chopped chives
Sea salt
Freshly ground pepper
Directions
Cut the carrots into 1/4-inch thick discs and then place in a steamer or steamer rack over boiling water.
Steam the carrots for about 10 minutes or until tender, and then transfer to a serving bowl.
Top the carrots with the mustard, oil, honey, cinnamon, chives, a pinch of salt and a few grinds of fresh pepper and toss to coat.