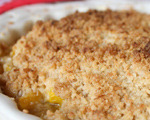 Prep: 10 min
Cook Time: 35 min
Total: 45 min
Serving: Makes a 9-inch round dessert
A wonderful way to appease your sweet tooth, spoon a bit of this delicious honey mango crisp into a dessert bowl and enjoy with a steaming cup of hot coffee.
Ingredients
4 cups peeled and sliced ripe mangoes
1/2 cup honey
1/2 cup all-purpose flour
1/4 cup brown sugar
1/4 teaspoon salt
1/4 cup butter, chilled and cut into pieces
1/4 cup shredded coconut
Directions
Preheat your oven to 375 degrees and butter a 9-inch round baking dish.
Place the mango slices into the prepared dish and then drizzle with the honey.
Put the flour, brown sugar and salt into a food processor and process until combined. Add the pieces of chilled butter and continue to blend the mixture until it forms a crumbly texture. Add the shredded coconut, pulse a few more times to combine, and then spoon over the mango mixture to top.
Bake the crisp in the oven for 35 minutes. Serve warm.