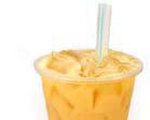 Prep: 20 min
Cook Time: 30 min
Total: 50 min
Serving: 1 Drink
This creamy drink looks just as good as it tastes.
Ingredients
1 ripe mango, chopped
1 cup low-fat milk
1/2 cup water
1/2 cup tapioca pearls
1 tbsp sugar
1 tea bag, black or green tea
1 tsp honey
Directions
Boil 3 cups of water, add in tapioca pearls and cook covered for about 30 minutes. When soft, place in a medium bowl.
In the meantime, steep the tea bag for 10 minutes in a cup of boiling water. Allow the prepared tea to chill in the freezer for 15 minutes until you're ready to use it.
When the tapioca pearls are finished, pour in a few tablespoons of water and add 1 tablespoon of sugar and honey. Mix together until sugar complete dissolves.
In a blender, add in mango chunks, low-fat milk, water (depending on what kind of consistency you want), and remaining sugar. Blend until smooth.
Mix the mango blend with the tea and the tapioca pearls. Enjoy!