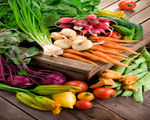 Prep: 15 min
Cook Time: 25 min
Total: 40 min
Serving: 6
Serve this flavorful side with grilled lean meat, fish or tempeh and steamed brown rice. The sweet-hot infusion of honey and jalapeno spice up the crisp-tender vegetables
Ingredients
Marinade
2 tablespoons warm honey
¼ cup white wine
1 tablespoon olive oil
2 cloves garlic, minced
1 large jalapeno, seeded, minced
3 tablespoons finely chopped fresh oregano leaves or 1 tablespoon dried
Pinch cayenne
Pinch salt
Black pepper to taste
Vegetables
1 (8 ounce) eggplant, ends trimmed, cut crosswise into ¼ inch thick slices
1 (8 ounce) red bell pepper, cored, cut crosswise into ¼ inch thick slices
1 pound yellow summer squash, ends trimmed, cut crosswise into ½ inch thick slices
18 to 20 small Brussels sprouts, trimmed (about 8 ounces)
2 (6 ounce each) onions, cut into eighths
Directions
Marinade
In a large bowl, whisk together the marinade ingredients:
Vegetables
Toss the following all your vegetables with marinade in large bowl:
Preheat oven to 400 degrees F. and generously wipe a large roasting pan with olive oil.
Allow vegetables to marinate for 30 minutes.
Transfer vegetables from bowl to roasting pan.
Bake uncovered, stirring two or three times, until tender and browned, about 25 minutes.
Serve warm.