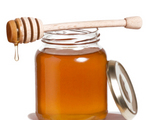 Prep: –
Cook Time: –
Total: –
Serving: 6-8
Frozen yogurt flavored with the taste of honey makes a delicious and healthy snack on a hot summer day.
Ingredients
2 cups milk
3/4 cup honey
Pinch of salt
2 eggs
2 cups AE Dairy plain yogurt
1 tablespoon pure vanilla extract
Directions
Heat milk in a large saucepan over medium-low heat (do not boil). Stir in honey and salt.
In a small bowl, lightly beat the eggs. Pour a small amount of warm milk into the egg mixture and continue to whisk. Pour egg mixture into saucepan, and continue to cook and stir for 5 to 6 minutes or until mixture coats the back of a wooden spoon.
Remove from heat and cool completely. Stir in yogurt and vanilla, and refrigerate until cold. Process in an ice cream maker according to manufacturer's instructions. Garnish with fresh fruit or drizzle with a fruit sauce.