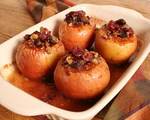 Prep: 20 min
Cook Time: 1 hr
Total: 1 hr 20 min
Serving: 6 Servings
Baked apples are a fall favorite. If you're looking for a new baked apples recipe that has a little something extra, this honey cranberry baked apples recipe is for you.
Ingredients
6 apples
6 tbsp butter
1/2 tsp nutmeg
1/2 tsp cinnamon
1 1/2 cups fresh cranberries
2 cups water
3/4 cups packed brown sugar
4 tbsp honey
Directions
Preheat oven to 350 F. Core each apple leaving the bottom of the apple intact. Widen the opening of each hole at the top of the apple to about one inch.
Put cranberries into each hole right up to the top of each apple. Set each filled apple in a baking dish.
In a saucepan, combine water, honey and brown sugar. Heat and stir until sugar is dissolved. Add spices and stir.
Pour the sweet mixture in the hole and all over the apples. Top each opening with a tablespoon of butter. Bake for about an hour and spoon the excess sugar water onto the apples every 20 minutes or so. Allow to cool slightly before serving.