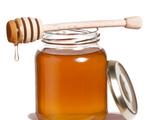 Prep: –
Cook Time: –
Total: –
Serving: Serves 4
Honey is, by far, one of nature's sweetest rewards. And no two honeys taste alike. With more than 300 varieties of honey (in the U.S. alone!), you can enjoy this natural sweetener in both sweet and savory dishes without ever having to use the same honey twice. Not only can honey seamlessly replace sugar in most recipes, it adds a mild yet distinctive sweet flair, elevating your ordinary dishes to savor-worthy fare.
Ingredients
1 1/2 cups coconut milk (shake the can before opening)
3 eggs, lightly beaten
1/4 cup honey
1 teaspoon minced orange zest
2 cups mixed ripe berries
Toasted coconut
Directions
Preheat oven to 300 degrees F and spray four 1/2-cup ramekins or one 3-cup mold with nonstick cooking spray.
Combine milk, eggs, honey and orange zest in a large bowl and whisk until blended. Pour into ramekins or mold, and place on a wire rack in a pan of hot water. Bake for 15 to 20 minutes for the ramekins or 30 to 40 minutes for the mold. Flan is done when a knife inserted in the center comes out clean.
Cool flan on a wire rack and refrigerate for 2 hours. Run a knife around the edges to loosen, and invert onto a serving plate.
Puree berries and press through a fine sieve to remove any seeds or solids. Add honey to sweeten, if necessary. Pour over flan and garnish with toasted coconut.