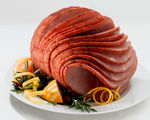 Prep: 2 min
Cook Time: 1 hr 15 min
Total: 1 hr 17 min
Serving: 12
Superb for a holiday dinner or any other special occasion when you need to feed a crowd.
Ingredients
3/4 cup honey
2 tablespoons bourbon
1/2 teaspoon ground cloves
1 (5-pound) bone-in, fully-cooked spiral ham
Directions
Preheat oven to 275 degrees F.
In a small bowl, whisk together honey, bourbon and cloves.
Place ham, cut-side down, in a roasting pan and brush with honey mixture.
Cover pan with foil and bake for 1 hour or until heated through.
Remove foil and increase oven temperature to 425 degrees F.
Brush ham with remaining honey mixture and bake 10 minutes or until ham is golden brown.
Remove from pan and place on a serving platter, allowing it to sit for 5 minutes.
Pour juices from pan over ham and serve immediately.