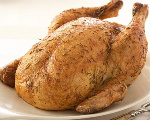 Prep: 20 min
Cook Time: 1 hr 55 min
Total: 2 hr 15 min
Serving: 6 people
Give your ordinary roast chicken an extra kick, Chicken roasted with honey and rosemary with squash and onion added.
Ingredients
3- to 3 1/2 pound whole broiler-fryer chicken
1 1/2 pound buttercup or acorn squash
2 medium onions
1/2 cup butter melted
1/4 cup lemon juice
2 tablespoons honey
2 teaspoons dried rosemary leaves, crumbled
1 clove garlic, finely chopped
Directions
Peel the squash, slice into 1/2 inch rings, then in half. Chop the onion into 1 inch slices.
Preheat oven to 375 degrees Fahrenheit.
Fold wings under the back of the chicken and tie the drumsticks together. Place the chicken, breast side up, in the roasting pan and arrange the vegetables around it.
Combine the remaining ingredients and mix well. Spread over the chicken and vegetables, retaining the remaining marinade.
Place meat thermometer into the thickest part of the thigh, insuring that it is not touching bone.
Cook uncovered for 1 hour. Brush on the remaining marinade and cover loosely with foil. Continue cooking until the thermometer reads 180 degrees Fahrenheit, about 45-55 minutes. The juice of the chicken should no longer be pink when the thigh is cut and the squash should be tender.