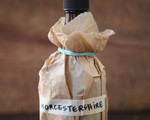 Prep: 10 min
Cook Time: 22 min
Total: 32 min
Serving: Makes about 2 cups
Who needs the store-bought stuff out of the bottle when you can make an even richer, more flavorful version yourself.
Ingredients
2 cups distilled white vinegar
1⁄2 cup molasses
1⁄2 cup soy sauce
1⁄4 cup tamarind concentrate
3 tablespoons yellow mustard seeds
3 tablespoons sea salt
1 teaspoon whole black peppercorns
1 teaspoon whole cloves
1⁄2 teaspoon curry powder
5 cardamom pods, smashed
4 chiles de árbol, chopped
2 cloves garlic, smashed
1 1-inch stick cinnamon
1 anchovy, chopped
1 yellow onion, chopped
1 -1⁄2-inch piece ginger, peeled and crushed
1⁄2 cup sugar
Directions
Place all of the ingredients, except for the sugar, into a 2-quart saucepan and bring to a boil.
Once boiling, reduce the heat to medium-low and simmer the mixture for 10 minutes.
In the meantime, place the sugar into a small skillet and cook over medium-high for 5 minutes; sugar will darken and become syrupy.
Whisk the caramelized sugar into the vinegar mixture and cook for 6 minutes.
Strain the liquid into a glass jar, tightly cap and store in the refrigerator for up to 8 months.