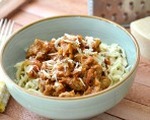 Prep: 10 min
Cook Time: 15 min
Total: 25 min
Serving: Yields about 2 cups of sauce
Is spaghetti and meat sauce about the only thing you can get your picky eaters to eat? Instead of buying the stuff in a jar (that is loaded with preservatives) or feeding them chemically-infused beef, try this delicious and healthy vegetarian meat sauce recipe! Made with 100 percent vegetable protein sausage and healthy vegetables, you can relax knowing each bite your kids take is a healthy one.
Ingredients
8 ounces vegetarian sausage
1/3 cup chopped mushrooms
2 tablespoons extra virgin olive oil
1 medium onion, finely chopped
2 gloves garlic, minced
1 1/2 cup homemade marinara sauce
Liberal dashes of salt and pepper
2 tablespoons fresh oregano
1 tablespoon finely chopped basil leave
Freshly grated Parmesan
Directions
Heat the olive oil in a medium pan over medium-high heat. Add the onions and cook them until they are just soft, about 2 minutes. Add in the garlic and cook it until it is fragrant, about 1 minute. Add the mushrooms and cook for another 2 minutes.
Add in the vegetarian sausage and break it up with a spatula to crumble. Add in the seasonings, salt and pepper. Cook about 2 minutes to heat the sausage up.
Pour in the marinara sauce and heat about 2 - 4 minutes longer. Add in the additional basil or salt and pepper to taste.
Serve the sauce over some pasta and garnish it with freshly grated Parmesan cheese.