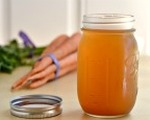 Prep: 5 min
Cook Time: 1 hr 30 min
Total: 1 hr 35 min
Serving: Yields about 4-1/2 quarts
Nothing adds flavor to any dish like a cup of homemade stock. Although store bought is easier and more convenient, making your own stock costs next to nothing and the taste is unparalleled. All you need are veggie scraps, a large pot and you're set!
Ingredients
6-1/2 cups vegetable scraps (carrots, onions, mushrooms, celery, garlic, etc)
1 bay leaf
Dash of salt and pepper
5 - 6 fresh basil leaves
5 quarts
Directions
In a large, 5-quart Dutch oven, heat scraps, bay leaf and 1 cup of water. Bring to a boil.
Reduce the heat and let simmer for about an hour, or until vegetables are very fragrant. Remove from heat and let cool until warm.
Using a wire mesh strainer, strain the vegetables and discard. Store broth in airtight jars or containers.