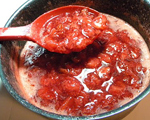 Prep: 1 hr 15 min
Cook Time: 15 min
Total: 1 hr 30 min
Serving: Makes about 2-1/2 cups
This should become a staple recipe to make come strawberry season in June. Serve on ice cream or on top of strawberry shortcake.
Ingredients
2 pints ripe strawberries
1 cup sugar
Directions
Hull, wash and drain the strawberries and then slice into a large bowl.
Toss the strawberries with 1/2 cup of the sugar and then loosely cover and let stand for 1 hour.
Transfer the berries to a large saucepan and place over high heat. Once the mixture starts to boil, reduce heat and simmer for 8 minutes, stirring frequently.
Add the remaining 1/2 cup of sugar, bring to another boil and then simmer for 5 more minutes.