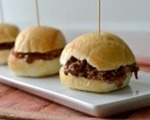 Prep: 8 min
Cook Time: 15 min
Total: 23 min
Serving: Serves about 4 people
Who doesn't love a big, juicy sloppy joe? This delicious food always brings us back to the days of our youth. As delicious as these are, those cans of sloppy joe juice are filled with tons of preservatives and things we wouldn't want to feed our family. So instead, we whipped up our own homemade sauce with only the freshest of ingredients. We made these normally large sandwiches into bite-size sliders so they are easier to eat for our little hands!
Ingredients
1 pound lean ground beef
1 cup chopped onion
1/2 cup chopped yellow pepper
1 tablespoon brown sugar
1 tablespoon vinegar
1 cup low-sugar organic ketchup
2 tablespoons spicy mustard
1/8 teaspoon cloves
8 dinner rolls, cut in half
2 tablespoons olive oil
Liberal dashes of salt and pepper
Directions
Heat the olive oil in a large pan over medium-high heat. Add the onions and cook them until they are fragrant, about 2 minutes. Add in the peppers and cook them until they are soft. Add the ground beef and cook until it is fully browned, about 6 - 7 minutes.
Drain the beef mixture and return it to the stove. Stir in the brown sugar, vinegar, ketchup, mustard and salt and pepper. Add additional salt and pepper to taste.
Scoop about 2 - 3 tablespoons of sloppy joe onto each slider bun and serve!