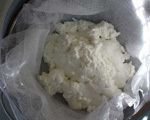 Prep: 10 min
Cook Time: 15 min
Total: 25 min
Serving: Makes about 1-1/2 cups
Ricotta is a delicious Italian cheese that can be used in both savory and sweet recipes. Use whole organic milk to make organic homemade ricotta.
Ingredients
8 cups whole organic milk
1 teaspoon sea salt
3 tablespoons freshly squeezed lemon juice
Directions
Place the milk and salt in a large saucepan and bring to a simmer over medium heat.
In the meantime, layer 4 pieces of cheesecloth in a colander over a medium-sized bowl.
When the milk begins to simmer, stir in the lemon juice and continue to simmer until curds begin to form.
Using a slotted spoon, remove the curds and place into the cheesecloth then allow to drain for a few minutes before transferring to a bowl.
Cover the bowl with a tight-fitting lid and store the ricotta in the refrigerator until ready to use.