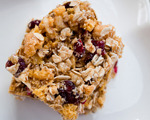 Prep: 1 hr 10 min
Cook Time: 5 min
Total: 1 hr 15 min
Serving: Makes about 10 bars
Purchasing Power Bars can get expensive, especially if you eat them frequently as a snack. Try making your own homemade version instead. The result is equally as good, if not better, than the store-bought variety.
Ingredients
1 tablespoon vegetable oil
1-1/4 cups rolled oats
1-1/4 cups chopped toasted walnuts
1/2 cup oat bran
1-1/2 cups puffed cereal
1 cup dried cranberries, coarsely chopped
3 pieces of dried crystallized ginger, finely chopped
1 cup brown rice syrup
1 teaspoon pure vanilla extract
1/2 teaspoon salt
Directions
Grease an 8x8-inch pan with the vegetable oil and set aside.
Place the oats, walnuts, oat bran, puffed cereal, cranberries and ginger into a bowl and stir to combine.
Put the brown rice syrup and vanilla into a small saucepan and heat over low heat until the mixture has thinned out in consistency. Add it to the dry ingredients, stir to combine and then transfer the mixture to the prepared pan. Press the mixture evenly into the pan and then place in the freezer for 1 hour to chill.
Slice the bars and serve. Store any extras in an airtight container in the refrigerator.