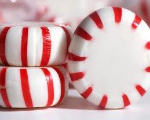 Prep: 2 hr 15 min
Cook Time: –
Total: 2 hr 15 min
Serving: 7 1/2 dozen
Simple homemade peppermint candy.
Ingredients
3 1/4- 4 cups confectioners' sugar
2/3 cup sweetened condensed milk
Red food coloring
1/2 teaspoon peppermint extract
Directions
Line a cookie sheet with wax paper.
Mix together the sugar, milk and a couple drops of food color. Add in the extract. Stir in more sugar to create a smooth and creamy mixture.
Form into 1-inch balls and arrange on the cookie sheet. Flatten with a fork until it is 1/4-inch thick. Allow to stand at room temperature for 1 hours, uncovered. Flip the candies, and allow to stand for another hour.
Store in an airtight container.