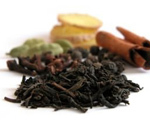 Prep: 15 min
Cook Time: 10 min
Total: 25 min
Serving: Mix for 2 Drinks
Navy Grog mix is a juice and spice mixture used to sweeten and flavor cocktails. Instead of purchasing the store-bought variety, make your own batch at home with this simple recipe.
Ingredients
3 sticks of cinnamon
2 whole cloves
1/4 teaspoon cardamom seeds
2 tablespoons allspice berries
3 cups water
1-1/2 cups sugar
1/3 cup lime juice
1-1/2 ounce grapefruit juice
Directions
Place the cinnamon, cloves, cardamom and allspice into a mortar and pestle and break into pieces.
Put the spice mixture into a saucepan, add the water and bring to a boil. Boil the mixture until reduced by half and then strain; discard spices.
Return the liquid back to pan and add the sugar. Simmer the mixture over low heat and stir until all of the sugar has dissolved. Set aside to cool.
Once the syrup has cooled, add the lime juice and the grapefruit juice and stir well until thoroughly blended.