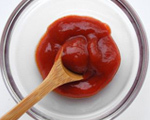 Prep: 10 min
Cook Time: 30 min
Total: 40 min
Serving: Makes about 4 cups
America's favorite condiment undergoes a modern and unique twist with the addition of balsamic vinegar.
Ingredients
3 pounds tomatoes, cut into quarters
1 cup balsamic vinegar
1/2 cup sugar
1 tablespoon sea salt
1 teaspoon mixed spice mix
1/2 teaspoon cayenne pepper
Directions
Place the tomatoes in a large saucepan along with the salt and vinegar. Simmer the mixture over medium heat until tomatoes are very soft, about 15 minutes.
Using a coarse strainer, strain the tomato mixture and then place the strained liquid back into the saucepan.
Stir in the sugar and simmer over medium heat until mixture thickens.
Sprinkle in the spice mix and the cayenne pepper, and stir to combine.
Store the ketchup in sterilized bottles until ready to use.