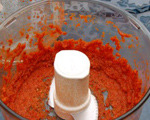 Prep: 10 min
Cook Time: 25 min
Total: 35 min
Serving: 8 servings
Harissa, a hot chile paste, is a staple ingredient in Moroccan, Algerian and Tunisian cuisine. Mix in into soups and rice dishes, enjoy it as a spread or rub it on the meat of your choice as a marinade.
Ingredients
1 red pepper, roasted and chopped
1 red onion, chopped
3 cloves of garlic, minced
1/4 teaspoon caraway seeds
1/4 teaspoon coriander seeds
1/4 teaspoon cumin seeds
1/2 teaspoon salt
Juice of half a lemon
1 tablespoon olive oil
1 dried chilli
2 fresh red chillies, chopped and de-seeded
Directions
Place the caraway, coriander and cumin in a large sauté pan over medium-high heat and cook for about 2 minutes or until fragrant, shaking the pan continuously. Transfer the mixture to a spice grinder or a mortar and pestle, and then process into a powder.
Put the olive oil in a large sauté pan over medium heat. Once it begins to shimmer, add the red pepper, onion, garlic, caraway spice mixture, salt, lemon juice and both chilies into the pan and sauté for 20 minutes, stirring frequently.
Transfer the mixture to a food processor and blend to combine.