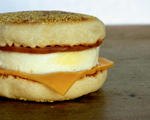 Prep: 10 min
Cook Time: 15 min
Total: 25 min
Serving: 2 Servings
The perfect breakfast sandwich when you're on the run! Grab a napkin, your ham and egg sandwich, your coffee and go!
Ingredients
1 tablespoon olive oil
2 large eggs
Salt and freshly ground pepper to taste
2 slices honey ham
2 slices American cheese
Directions
In a small skillet, heat the olive oil on medium-high. Grease or spray the inside of a round biscuit cutter and put in the middle of the skillet.
Crack the egg into the biscuit cutter. Cook for about 3 minutes and then gently remove the cutter from the egg.
Flip egg and fry for an additional 3 minutes. Remove from pan, sprinkle with salt and pepper and set aside; keep warm. Cook the second egg in the same manner.
Place the ham in the pan to heat through. Remove and set aside.
Toast the English muffins until lightly toasted. Place one slice of American cheese on the bottom half of each muffin, followed by the ham, and the egg. Serve immediately.