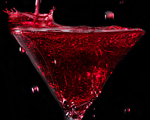 Prep: 45 min
Cook Time: 5 min
Total: 50 min
Serving: Makes 1-1/2 cups
Real grenadine syrup is made from pomegranate juice and sugar; it is not a mixture of artificial colors and flavors like the syrups sold in liquor stores.
Ingredients
1 cup pomegranate juice, no sugar added
1 cup granulated sugar
1/4 teaspoon freshly squeezed lemon juice
3 drops orange-flower water
Directions
Place the pomegranate juice in a saucepan and place over medium heat.
Once the juice begins to steam, after about 5 minutes, remove the pan from the heat and add the sugar.
Stir the mixture until all the sugar has dissolved and the liquid becomes clear; approximately 5 minutes.
Add the lemon juice, and orange-flower water and stir to combine.
Let the mixture cool to room temperature before transferring to a container, tightly capping and placing in the refrigerator until use.