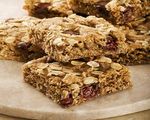 Prep: 10 min
Cook Time: 25 min
Total: 35 min
Serving: 8
Perfect to pack in your kiddo's lunch or munch as a post-workout nosh.
Ingredients
2 cups quick cooking oats
1 cup all-purpose flour
3/4 cup brown sugar
3/4 cup raisins
1/2 cup wheat germ
1/2 teaspoon salt
1/2 teaspoon ground cinnamon
1/2 cup chopped English walnuts
1/2 cup vegetable oil
1/2 cup agave nectar
1 egg
2 teaspoons vanilla extract
Directions
Preheat oven to 350 degrees F. and line a 9x13-inch pan
with aluminum foil or parchment paper. Spray with nonstick cooking spray.
In a large bowl, stir together the oats, flour, brown sugar, raisins, wheat germ, salt, cinnamon and walnuts.
In a smaller bowl, mix together the oil, agave, egg and vanilla until well blended.
Pour the egg mixture into the dry ingredients and stir until well combined. Press evenly into the prepared pan.
Bake for 25 to 30 minutes or until the edges are
golden. Cool completely in pan.
Turn out onto a cutting board, remove the paper or foil, and cut into desired sizes. For best storage, wrap individually.