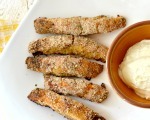 Prep: 10 min
Cook Time: 30 min
Total: 40 min
Serving: Serves 4 People.
Fish sticks are a cafeteria staple. These often frozen, deep fried delights are favorites among kids and adults. However, if you or someone in your family is suffering with celiac disease (a gluten intolerance), you can no longer indulge in those fried, frozen sticks. But that doesn't mean you can't enjoy your favorite cafeteria treat prepared another way! Whip up a batch of these gluten-free fish sticks, baked to a crispy perfection and served with some light tartar sauce.
Ingredients
16 ounces of cod
2 eggs, lightly beaten
1 cup gluten-free bread crumbs
4 tablespoons Parmesan cheese
Liberal dashes of salt and pepper
Tartar sauce for dipping
2 tablespoons olive oil
Directions
Preheat your oven to 375 degrees F. Grease a baking dish with some olive oil.
Cut the cod into about 1-inch slices. In a shallow bowl, pour the lightly beaten eggs. In another bowl, mix the bread crumbs, Parmesan cheese and salt and pepper.
Dip each fish stick into the egg. Then place the fish into the bread crumb mixture and liberally coat. Place each fish stick down onto the prepared pan.
Bake for about 15 minutes. Then move the fish sticks around so they don't stick to the bottom of the pan. Bake for another 10 - 15 minutes, or until they are golden brown. Serve with some tartar sauce and enjoy!