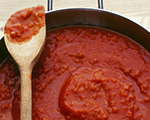 Prep: 15 min
Cook Time: 52 min
Total: 1 hr 7 min
Serving: 4-6 Servings
Use this recipe for homemade tomato sauce only if you have access to ripe tomatoes that are in season, otherwise try roasting the tomatoes first to bring out more flavor.
Ingredients
1-3/4-pounds Roma tomatoes
1 teaspoon olive oil
1/2 cup onion, diced
1 clove garlic, minced
1/2 cup tomato paste
2 cups vegetable stock
2 tablespoons fresh basil, chopped
salt and freshly ground black pepper, to taste
Directions
Peel, seed and chop the tomatoes, then set aside.
Heat the oil in a large sauté pan over medium heat and add the garlic and onions. Cover the pan with a lid and sweat the contents for 6 minutes until soft.
Add in the tomatoes and the paste and mix to combine, then slowly pour in the stock, cover the pan and simmer for 45 minutes, stirring occasionally.
Remove sauce from the heat, and stir in the basil and a few pinches of salt and pepper to taste.